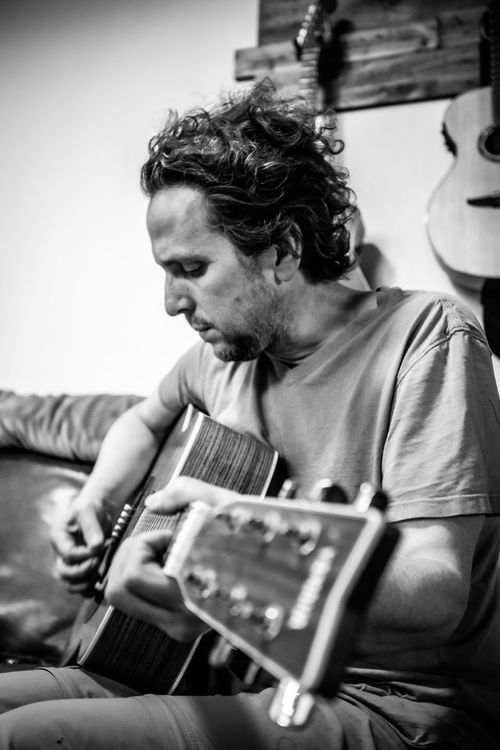 Scott Warren is a singer, songwriter, guitarist and producer living in Evergreen, CO by way of California and Missouri. He releases music as a solo artist and with the Americana duo Wounded Bird. 
From 2002-2009 he fronted the alt/indie rock band Signal Hill Transmission. The outfit released two full length albums and a handful of EP's, the final via ATO Records.  From 2009 to current he's released four full-length solo albums, an EP with Wounded Bird and several singles. Songs from his releases have appeared in TV shows like Harry's Law, 90210, The League, Giada at Home and in films such as The Rocker and Firehouse Dog.  As a composer, Scott co-wrote the music for Miramax Films' opening logo and the score for "Angels Sing" (Lionsgate), a film starring Harry Connick Jr. and Connie Britton.
His most recent solo effort "SHADOW BANDS," a guitar rock focused affair, released in 2021. "Mountainside" and "Left Out on the Joke" from the record found their way into regular rotation on influential radio station 105.5 The Colorado Sound.
With plans for a Wounded Bird release in late 2023, Scott continues to write/record projects for himself and others out of his studio in Evergreen.  
solo recordings:          bandcamp, spotify
wounded bird:             bandcamp, spotify,
signal hill transmission:           spotify
RELEASE DATE:     10 AUGUST 2021
Scott Warren's fourth solo release, "Shadow Bands," is a guitar rock focused affair that ranges from Power Pop to Beatle-influenced Psychedelia. Warren handles the vocals, guitars and the lion's share of keys while Brian Young and Mark Crozer of The Jesus and Mary Chain hold down the rhythm section. Additional performances and arrangements from Brian Lapin, Jeff Cardoni, Mike Fratantuno & Amber Woodhouse round out the record.  
The album title comes from a phenomenon that occurs before and after a solar eclipse where thin, wavy lines of alternating light and dark sweep across the earth. Warren touches on this curious occurrence in the closing track "See/Feel." 
PRESS:  
"A song like Mountainside is great West Coast McCartney Pop. Compare that to the splendid Psych Pop of Chemical Trails and you get some idea of the variety." … "But the stand out is the magnificent Left Out On The Joke…It is a top notch 3 minute upbeat affair that demonstrates why any fan loves pop." -Hear A Single  
"Adding a touch of Beatle-influenced psychedelia, the opener "Press Reset On The World" blends a little "I Am The Walrus," a little Oasis strut, and thickly layered rhythm section into a bold statement that really rocks." ... "Overall, a terrific album that gets better with each listen. It makes my top ten list for 2021. Highly Recommended. 9/10." -Powerpopaholic  
"Scott Warren has made a fantastic new record. Ten pop songs, which all differ slightly in taste, make me want to play Shadow Bands repeatedly." -Sweet Sweet Music  
"Warren's songs are soulful, intelligent and melodic, his production and arrangement skills hit all the right notes and he has a burnished everyman singing voice that conveys intimacy without being emotional." -The Big Takeover
RELEASE DATE:  16 FEBRUARY 2016
Scott Warren (Signal Hill Transmission) brought together the same cast as his 2012 effort Dyed In The Wool. Starting with the solid "Good Love" it's one of the best openers this year, with melodic muscle in the chorus. "Cold Feet" is worthy follow up, with a wicked guitar solo at the break about a hot-and-cold love affair. 
"Idle Hands" recalls Matthew Sweet's dense bed of drums and riffs, but then he slows down for "Why Won't You Come Around?" before it builds up to a bluesy crecendo that knocks it out of the park. A few country styled songs are wedged in here, but don't resonate as strongly as the rock. The ballad "Fall in Line" is a good palette cleanser for the Fleetwood Mac-ish "When I Get Away From You." A slow tempo cover of Lindsey Buckingham's "Trouble" closes things out. This is terrific album that deserves to be heard. Highly Recommended! 
RELEASE DATE:  21 AUGUST 2012
The former frontman of Signal Hill Transmission is back with his second solo album after 2009's fine Quick Fix Bandage. As I mentioned in that review, Warren never likes to make the same album twice, and here he veers from Bandage's popicana to a more indie pop sound not unlike a psychedelic Shins or Jo Dee Purkeypile's The Alice Rose. "Divisible/Indivisible" opens with a spry melody buoyed by Janelle Williams' trumpet and some well-placed whistling while "When She Comes Around" sounds like Paul McCartney if he were a 21st century indie popper. Elsewhere, the pretty melody of "When in Rome" and the "la-la-la" chorus of "Sinking Feeling" (which also features the "shooby-do-wa" refrain from "Revolution 1") help these two tracks stand out from the rest. And closer "Tongue-Tied" might be the best of the lot with its halting melody and bells and whistles that make it sound like a lost track from Wilco's Summerteeth. Another winner for Warren.